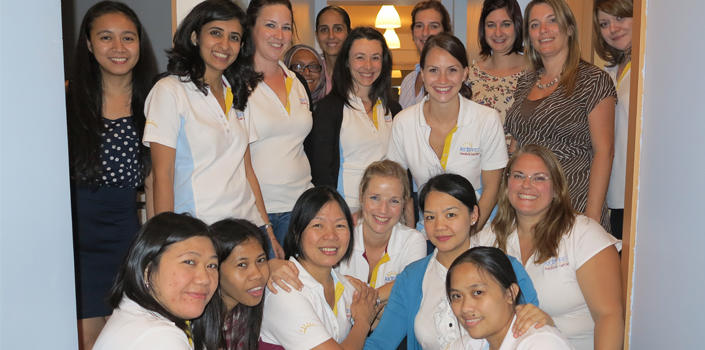 Talk with any kidsFIRST staff member and it is immediately clear that we each feel called both to our professions and to our work with children. Whether it's on the playground, in the classroom, or at the dinner table, our desire it to make a real difference in each child's day to day life.
kidsFIRST's growing team includes therapists trained in a wide range of learning skills and special needs, including areas such as sensory integration, coordination, speech development, memory, listening, and eating/swallowing.
We help children with a wide range of ordinary and special needs, including Autism, ADD, ADHD, dyslexia, dyspraxia, and developmental delay, in addition to supporting families with strategies and guidance.
Are you an allied health professional seeking an exciting opportunity with a pediatric-focused employer in the UAE? Click here.
What Staff Are Saying
"Since starting at kidsFIRST in November 2011, I feel I have been well supported by my colleagues and have become part of the kidsFIRST family. I love working alongside other professionals who have a similar passion to me to improve the lives of children and families. I feel we all work hard and are dedicated to making a difference to the children that we work with."
Amy Bailey
"We are blessed for the lives we touch are special." I truly feel blessed belonging to the kidsFIRST family! Since I joined kidsFIRST in 2009, I have grown as a professional where therapy transcends all boundaries of disciplines and all therapists work together blending in expertise from different fields to come up with the best possible treatment approaches for children. The multidisciplinary approach at kidsFIRST is amazing, and we see that in the success of every kidsFIRST child that comes our way!"
Nishad Sayyed